Boarding Services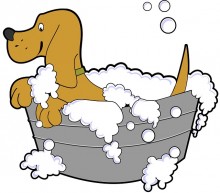 All Cypress Veterinary Hospital offers spacious clean boarding facilities to care for your pets when you must be away. You can be sure that your pets will be given lots of TLC at our boarding facility during those times you must be away from your pet. We'll always contact you at the emergency number you provide should your pet require any medical treatment or veterinary procedures performed. You'll need to bring any special medications your pet requires and any special diet. We feed dogs and cats Science Diet Sensitive Stomach.
Vaccinations required for boarding:
Other recommendations for boarding:
DHLPP
Intestinal Parasite Screening
We have a big, fenced, back yard that we let dogs out to run and play during good weather. We will walk your dog as necessary. You are welcome to bring bedding and toys, however, we have plenty of bedding at our Boarding Facility.
Grooming Services
We all know what it's like to have a day of pampering and we believe your pet should get to experience that, too! We would love to pamper your pet with our "Spa Package" which includes a deep cleansing bath, nail trim, anal gland expression, ear cleaning, brush out and blow dry. If you would like to include a shave down, we could do that as well!
Grooming services offered:
Services include total package of bath, shave, nail trim, anal gland expression, ear cleaning and blow dry.